To help serve you better please have as much information available about your generator as possible. The image to the right shows where you can find the information on the generator. The yellow arrow is the Model Number and is the most important number we need. The pink arrow is where you will find additional engine information that is not always helpful but have it handy anyways. The green arrow sometimes will desplay a three digit number that helps identify what engine is on your generator, in the picture shown the engine is a GN220.
Generac no longer makes these generators. Briggs & Stratton now makes similar models that are powered by Briggs & Stratton Engines.
Generac is still manufacturing RV generators.
Please call us for more information .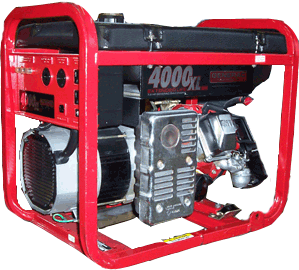 Please Call 815-485-4545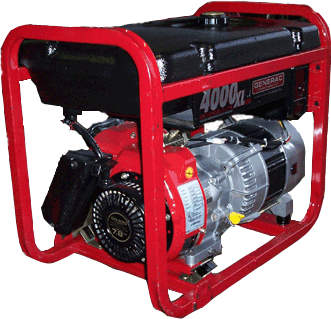 Generac Generators portable generators has been aquired by Briggs and Stratton Power Products. Parts are still available for your Generac Generator powered by the Nagano engine that was made for Generac.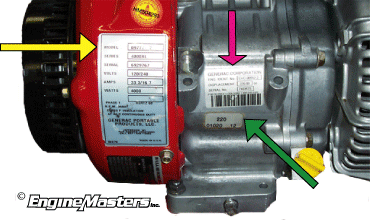 Generac
Under Construction as of 10/1/05

Enginemasters Inc.
22037 Howell Drive
New Lenox, IL 60451
815-485-4545



Engine sales- industrial engines, generator engines, diesel gas engines for generators, diesel engines, gas engines, fuel injected engines, liquid cooled engines, air cooled engines, ohv engines, side valve engines, four 4 stroke engines, two 2 stroke engines, engine parts, diesel engine parts, gas engine parts, engine cores, engine short blocks, engine long blocks, engine specs, engine specifications, overhead valve, engine, cylinder heads, engine sales, engine parts sales, engines, industrial engines, diesel engine parts, gas engine parts, briggs & stratton engines, continental engines, hatz engines, honda engines, kawasaki engines, kohler engines, kubota engines, lombardini engines, mitsubishi engines, onan engines, robin engines, tecumseh engines, vanguard engines, wisconsin engines, wiscon engines, linamar engines, kohler engines, lincoln welder engines, miller welder engines, briggs & stratton engine parts, hatz engine parts, honda engines, kawasaki engines, kohler engine parts, kubota engine parts, mitsubishi engine parts, onan engine parts, robin engine parts, tecumseh engine parts, vanguard engine parts, wiscon engine parts, wisconsin engine parts, continental engine parts, linamar engine parts, isuzu engine parts, gas engines, diesel engines, new engines, remanufactured engines, engine manufacturers, engines, power equipment manufacturers, engine dealers, bobcat engines, forklift engines, crane engines, snowblower engines, lawnmower engines, tractor engines, perlux, prestolite, wico, beam, century, garretson, zenith, martin, rotary, diesel gas engine distribution, diesel gas engine distributors, diesel gas engine dealers, hatz rebuilding, hatz rebuilt, wisconsin rebuilding, wisconsin rebuilt, leeboy engine, hatz leeboy, hatz rebuilding parts, hatz belt, onan coil, onan engine, onan parts, onan rebuilding