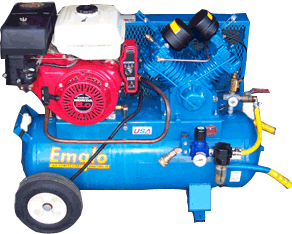 Enginemasters Inc. carries a large inventory of parts for Honda Power Equipment. Everything from filters to major internal engine parts. Parts not in stock are available within 2-5 business days. Replacement engines are also available at very competitive prices. Service and repairs are our specialty. Honda engines are almost always worth rebuilding. Do you have a generator output problem? We do that too!

Please have your engine model and type number handy!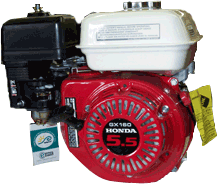 We service all of Hondas engines from the GX120 4hp to the larger V-Twin GX670 engines. We are also a full servicing Honda equipment dealer. We are very capable to do all major generator, pump, and inverter repairs.
Got a noisy Honda engine? Check your valve clearance. Set the intake at .006 inches and the exhaust to .008 inches. (For the GX160-GX390 only)
Your Honda engine will last you a very long time, but please take care of them. Check your air filter and change your oil regularly. They are not like a car, the oil needs to be changed much more often. Beware of failing oil alert systems, they do not always work. Check your oil level! Don't overfill it!

Enginemasters Inc.
22037 Howell Drive
New Lenox, IL 60451
815-485-4545
Fax: 815-485-4559

Engine sales- industrial engines, generator engines, diesel gas engines for generators, diesel engines, gas engines, fuel injected engines, liquid cooled engines, air cooled engines, ohv engines, side valve engines, four 4 stroke engines, two 2 stroke engines, engine parts, diesel engine parts, gas engine parts, engine cores, engine short blocks, engine long blocks, engine specs, engine specifications, overhead valve, engine, cylinder heads, engine sales, engine parts sales, engines, industrial engines, diesel engine parts, gas engine parts, briggs & stratton engines, continental engines, hatz engines, honda engines, kawasaki engines, kohler engines, kubota engines, lombardini engines, mitsubishi engines, onan engines, robin engines, tecumseh engines, vanguard engines, wisconsin engines, wiscon engines, linamar engines, kohler engines, lincoln welder engines, miller welder engines, briggs & stratton engine parts, hatz engine parts, honda engines, kawasaki engines, kohler engine parts, kubota engine parts, mitsubishi engine parts, onan engine parts, robin engine parts, tecumseh engine parts, vanguard engine parts, wiscon engine parts, wisconsin engine parts, continental engine parts, linamar engine parts, isuzu engine parts, gas engines, diesel engines, new engines, remanufactured engines, engine manufacturers, engines, power equipment manufacturers, engine dealers, bobcat engines, forklift engines, crane engines, snowblower engines, lawnmower engines, tractor engines, perlux, prestolite, wico, beam, century, garretson, zenith, martin, rotary, diesel gas engine distribution, diesel gas engine distributors, diesel gas engine dealers, hatz rebuilding, hatz rebuilt, wisconsin rebuilding, wisconsin rebuilt, leeboy engine, hatz leeboy, hatz rebuilding parts, hatz belt, onan coil, onan engine, onan parts, onan rebuilding