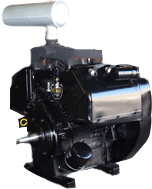 Enginemasters Inc. is proud to say that our staff has been around the parts and service of Wisconsin Engines for over 30 years. If you have a question, we have an answer!
Parts are still available for most of the Wisconsin Engine models from single to four cylinders. We do have a large selection of obsolete and hard to find parts. Please call with your requests.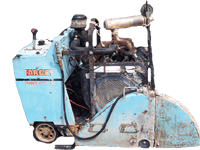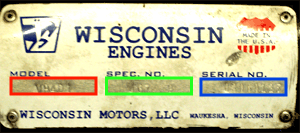 Use the sample plate on the left a a guide for your important engine information that you WILL need when ordering parts. The red box is the model number. The green box is the spec number. The blue box is the serial number. We must stress how important it is to have these numbers when calling. Without them you may get stuck with a part that won't even fit your engine.
If you are looking for tune-up parts, like cap rotor and points, you will also need to get numbers off of you distributor or magneto. Wisconsin used many of both and we have no way of knowing which you have without those numbers.
REBUILDING
Rebuilding your Wisconsin engine is very cost effective, especially if the model you have is no longer being made. Replacing your current Wisconsin engine with a different brand can be much more difficult than originally thought and not quite be what you need.
We recommend rebuilding to anyone that is having major engine troubles. The condition of your engine is what determines the price of the rebuild. We rebuild a few Wisconsin engines every month. We have rebuilt engines for multiple customers nationwide. When we rebuild your Wisconsin engine, expect it to be as good as new, all wearable parts are reconditioned or replaced as necessary.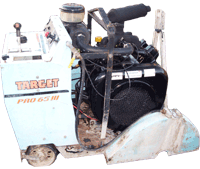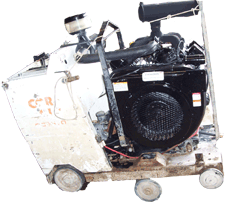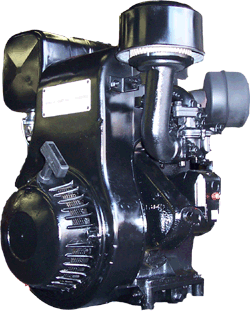 From concrete saws to garden tractors, your old reliable Wisconsin engine deserves a second chance at life. Do you really want to replace one of these with something else?
Enginemasters Inc.
22037 Howell Drive
New Lenox, IL 60451
815-485-4545
Fax: 815-485-4559

www.ENGINEMASTERSINC.com
Please ask about our engine rebuilding and how it can help you.
Do you or your company have new Wisconsin parts on your shelves that you are looking to get rid of? You won't get rich, but we will buy them!
PARTS Department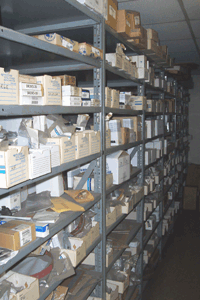 Engine sales- industrial engines, generator engines, diesel gas engines for generators, diesel engines, gas engines, fuel injected engines, liquid cooled engines, air cooled engines, ohv engines, side valve engines, four 4 stroke engines, two 2 stroke engines, engine parts, diesel engine parts, gas engine parts, engine cores, engine short blocks, engine long blocks, engine specs, engine specifications, overhead valve, engine, cylinder heads, engine sales, engine parts sales, engines, industrial engines, diesel engine parts, gas engine parts, briggs & stratton engines, continental engines, hatz engines, honda engines, kawasaki engines, kohler engines, kubota engines, lombardini engines, mitsubishi engines, onan engines, robin engines, tecumseh engines, vanguard engines, wisconsin engines, wiscon engines, linamar engines, kohler engines, lincoln welder engines, miller welder engines, briggs & stratton engine parts, hatz engine parts, honda engines, kawasaki engines, kohler engine parts, kubota engine parts, mitsubishi engine parts, onan engine parts, robin engine parts, tecumseh engine parts, vanguard engine parts, wiscon engine parts, wisconsin engine parts, continental engine parts, linamar engine parts, isuzu engine parts, gas engines, diesel engines, new engines, remanufactured engines, engine manufacturers, engines, power equipment manufacturers, engine dealers, bobcat engines, forklift engines, crane engines, snowblower engines, lawnmower engines, tractor engines, perlux, prestolite, wico, beam, century, garretson, zenith, martin, rotary, diesel gas engine distribution, diesel gas engine distributors, diesel gas engine dealers, hatz rebuilding, hatz rebuilt, wisconsin rebuilding, wisconsin rebuilt, leeboy engine, hatz leeboy, hatz rebuilding parts, hatz belt, onan coil, onan engine, onan parts, onan rebuilding